Seattle-Blake Island
Private Cruise
on a Classic Yacht

Oct-May | June-Sep
2 Guests... $400 | $500
up to 6 Guests... $450 | $550
(Total Group Cost)
RESERVE NOW!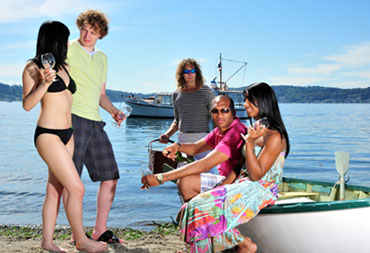 Discover a desolate little island where there are no roads, no homes, and no strip malls. Just trees, water and tranquility. A place where you can walk for miles along pebbly beaches, or trek softly through a natural forest and witness wildlife as it was seen by native inhabitants.
Blake Island lies but only an hour's boat ride west of Seattle, yet it is a century away. It's pristine lonely beaches make it a perfect destination for a classic picnic cruise reminiscent of early day yachting adventures.
Explore the island on foot or by bicycle--there are over 15 miles of trails on the 475 acre island. ... or beach comb to your hearts content on the five miles of unrestricted tidelands surrounding the island.
Cruise
Duration:

---

4 HR
Vessel(s):



---

Corsair
Departure
Location(s):

---

Bell Harbor Marina
2203 Alaskan Way, Seattle

West Seattle Pier
1660 Harbor Ave. SW, Seattle

Harbor Island Marina
1001 Klickitat Way S.W., Seattle